People bent on stopping resource development, jobs and our next wave of economic investment have stooped to new lows in putting their own safety and safety of others at risk.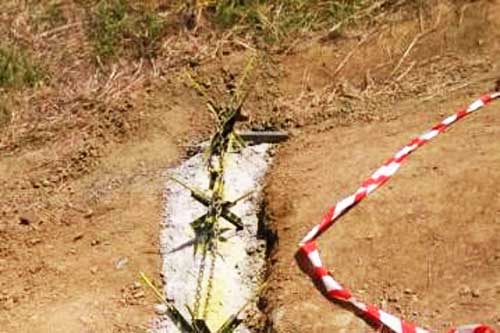 Road spikes installed near Bentley gas operations.
(Photo from ABC Online)
In Bentley, in the Richmond Valley of northern NSW, there are reports today that anti-gas activists have installed steel spikes at the entrance to a dairy farmer's property and on previous occasions have welded his entrance gate shut.
We have always recognised there is legitimate interest among landholders and communities on how resources are produced. Those issues are best addressed through open and transparent dialogue based on facts not fear and threatening behaviour.
NSW Upper House Greens MP Jeremy Buckingham told the ABC recently that the Greens "implicitly" support breaking the law through civil disobedience protests.
As a responsible Member of Parliament he should now denounce such behaviour and withdraw those comments in the interests of public safety.
The gas sector is delivering enormous benefits to our economy through safe production that utilises state-of-the-art technology and can continue to do so with your help.
What you can do
Please encourage your friends and family to send a message that they don't want us to fall behind.
Our petition and more information can be found at www.ournaturaladvantage.com.au.
APPEA, 4 February 2014